Biology and Art - November
This month's contribution comes from D.B. Koda, a 2nd-year master's student interested in many different things, but he kept losing interest in his life as his research progressed. For him, the true meaning of being a researcher is to be absolutely point-focused on the study.

<3 November UNESCO - International Day for Biosphere Reserves>
This month's topic is about how human society can co-exist with natural ecosystems. One of the essential concepts in the biosphere reserves is the designation of the core areas as strictly protected ones to conserve landscapes, ecosystems, species, and genetic variations. I wonder what the priorities for designating such sites are. Since we cannot survey the entire ecological community and are selective on places that want to be protected, we could be choosing the ecologically less important sites. A suitable living space for a human could also be a biologically demanding habitat for specific organisms. To extrapolate more, do we have any earth's surface that does not have a human footprint of any sort? There is no easy solution to this problem, and it is an almost unsolvable question. Still, it does not mean we, as biologists, can stop thinking about it, which is why we are motivated in our research.

今月のテーマは、人間社会が自然の生態系とどのように共存していけるかです。生物圏保護区の本質的なコンセプトのひとつは、景観、生態系、種、遺伝的変異を保存するために、核となる地域を厳格に保護するものとして指定することである。そのような場所の指定の優先順位はどうなっているのだろう。生態系全体を調査することはできず、保護したい場所を選別しているのだから、生態学的に重要度の低い場所を選んでいる可能性がある。人間にとって適切な生活空間は、特定の生物にとって生物学的に要求の高い生息地である可能性もある。さらに推し進めれば、地球上に人間の足跡のない場所はあるのだろうか。この問題には簡単な解答はなく、ほとんど解決不可能な問題である。それでも、生物学者である私たちがこの問題について考えることを止めることはできませんし、だからこそ、私たちは研究に意欲を燃やしているのです。

<HAIKU>
The rules are simple: 5-7-5, there is no seasonal reference word (a kigo), but your poem must relate to either biology or the topic of the month, and you are writing in English.
ルールは簡単。五・七・五、季語はなくてもよいけれど、生物学かその月の話題に関連した句であること、そして英語で詠むことです。
Therefore, D.B.'s haiku for this month is:
Where is the friendship?
Can we reunite again:
fauna, flora & us?
友情はどこへやら。
私たちはまた再会できるのだろうか?
動物、植物、そして私たち
<IKEBANA>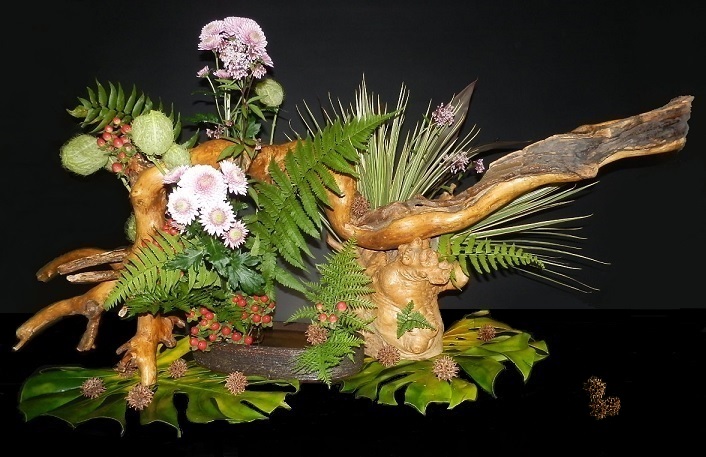 WORDS to learn this month are: biosphere (生物圏), ecosystem (生態系), habitat (生息地), to designate (指定する), survey (調査), selective (選択的), demanding (を要求する), to extrapolate (を外挿する/を推定する), footprint (フットプリント)